Buying behavior seems to change in Pakistan's market as consumers demand made in Pakistan apparel and exporters turn to the local market. They are shifting their consumption aside from tailored attire, a phenomenon that has captivated many apparel clothing manufacturers – including exporters – into the garment's dealership for the country's middle class.
This guide will cover why garment dealers shift towards any top Pakistan apparel clothing company.
Made in Pakistan apparel Opens Vast Opportunities for ROI.
As a part of its make-in-Pakistan campaign, the Pakistan business council (PBC) commissioned CDPR to conduct the study. The PBC's make-in-Pakistan project intends to reverse Pakistan's premature deindustrialization by promoting jobs, importing substitution, exporting value-added goods, and increasing government income.
Pakistan's textile industry is the most crucial sector of the country's economy. It produced over 8.5 per cent of the country's GDP in 2017, accounted for one-fourth of industrial value-added, and employed 40.0 per cent of the industrial labour force.
Since then, clothes have had the highest value addition among textile items and are the primary source of export earnings. Pakistan exported over $5.0 billion in textiles to the globe in 2020; $2.52 billion in knitwear and $2.47 billion in outerwear (woven).
Availability is the New Norm of Readymade Garments
made in Pakistan apparel are readily available in varied decisions, designs, and patterns, attracting more shopaholics due to Pakistani cultured outlooks.
Garment dealers see more purchasers within the context of more sales. These sales generate them revenue which drags more business. So ultimately, dealers find ready-made garments a much-needed switch.
As of institute of business administrators, their shopping behaviors study revealed that middle-class shop at two seasons of the year. Garment dealers track such seasons (winter or summer) and target the market accordingly. In these times, clothes are up to date with the latest style and readily perfect for any occasion or event. So, people find the outfits most relevant and certainly procure some.
Apparel Clothing Manufacturers Boosts High-Pitched Revenue
Ready-made clothing delivers high revenue streams as garments manufacturers in Pakistan prepare them in bulk. The material used to make these clothing is obtained in bulk from a wholesaler or a mill, resulting in a meagre cost. Manufacturers save bucks over cutting, sewing, and stitching when designers design several similar attires from the same fabric. One reputable clothing manufacturing company invests in unique attires budget-friendly and earns additional revenue.
In short, buying material and many trips to the tailor might often cost more than the cost of ready-made clothing.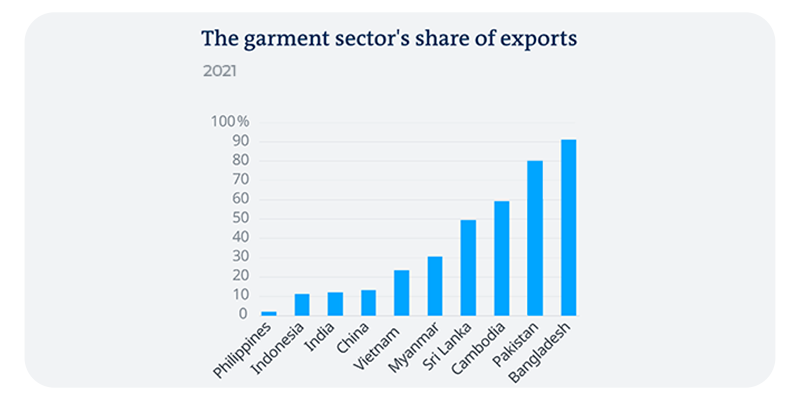 Enriched Pakistan's Garment Exports Carries a New Bias Towards High-Value Addition
The European Union granted Pakistan GSP plus status in December 2013, allowing member countries duty-free access to 96 per cent of Pakistani exports to the EU. Pakistan was the second nation in South and Southeast Asia to get the trade advantage, which granted it a 10 to 14 per cent tariff advantage over key regional competitors such as China, India, Vietnam, Thailand, and Indonesia.
Pakistan's most important export industry, clothing, boosted exports by 20% between 2013 and 2015. The high-value addition of made in Pakistan apparel exports modernized products brings high labor intensity and lowers energy needs. Therefore, the garments industry can support Pakistan's export-led growth.
According to fibre2fashion, the EU is Pakistan's second most significant trading partner, accounting for 14.3% of overall commerce in 2020 and absorbing 28% of total exports. In addition, Pakistan was the EU's 42nd largest goods trading partner, accounting for 0.3 per cent of total trade. Textiles and garments dominate Pakistani exports to the EU, accounting for 75.2% of overall exports to the EU last year.
In short, GSP plus status has helped the garment sector preserve its export share while increasing the ratio of skilled to the unskilled labour force.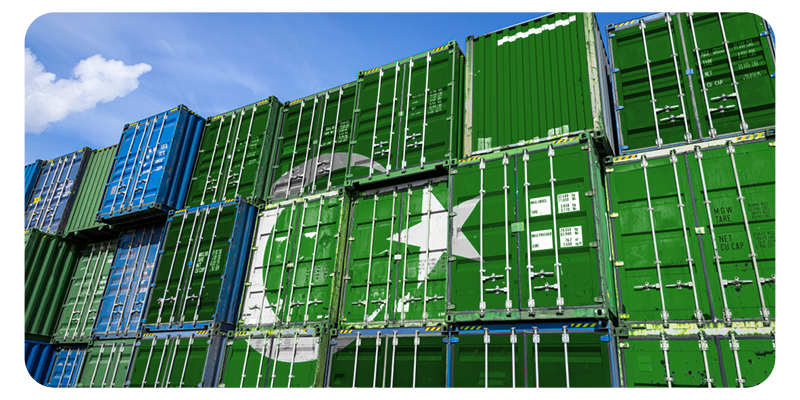 Brand Consciousness Among People is Increasing Every Day
Textile is the most important manufacturing sector of Pakistan. It has the longest production chain, with inherent potential for value addition at each processing stage, from cotton to ginning, spinning, fabric, dyeing and finishing, made-ups and garments.
People's brand awareness is growing with each passing day. Clothing manufacturing companies like Rainbow Textile and garment dealers take advantage of this social awareness. Television and social media have played a crucial influence in influencing the mindsets of the youth. The number of television channels has increased in tandem with television viewing. Pakistan's top 10 tracks have a total audience of 127 million. On the other side, the fashion business has the most Facebook fans, followed by the beauty, electronics, and e-commerce industries. Fashion shows are significant in altering the mindset of today's youth.
Youth have Apparel Clothing Manufacturers awareness because they believe that trademarks make them appear more appealing, funky, and fashionable. The working class wears branded clothing to seem more likeable, cute, and make a favorable impression on others. People follow and compete to unravel the most fantastic and most popular brand from others.
The underlying cause of the trend appears to be a willingness by the middle class to pay higher costs for what they believe to be superior quality, and many branded garments are considered as excellent value for money due to their more extended durability.
Increasing Labor Industry Leads Global Supply
The sector contributes nearly one-fourth of industrial Value-added and employs about 40 % of the industrial labour force. Barring seasonal and cyclical fluctuations, textiles products have maintained an average share of about 60% in national exports.
A clothing manufacturing company delivers ready-made garments that represent higher value addition in the textiles chain. For example, 50,000 kilograms of cotton fiber creates 400 jobs in the spinning, weaving, and finishing stages. The exact amount of cotton fibre creates 1600 jobs in garments manufacturing. Similarly, the US $1 million invested in spinning and weaving leads to the US $0.27 million in exports, compared to a much larger US $3.2 million in exports when the same amount is invested in garments manufacturing. In sum, garments have tremendous potential for creating jobs and generating exports for Pakistan.
Final Words
The clothing industry in Pakistan has enormous potential. Direct business can expand, as the most present company in Pakistan is placed through Apparel Clothing Manufacturers rather than directly.
China is significantly lowering the number of clothing manufacturers, which implies an opportunity in Asia for high-volume, low-cost sourcing centres. Pakistan, along with Bangladesh and India, can become the next destination.